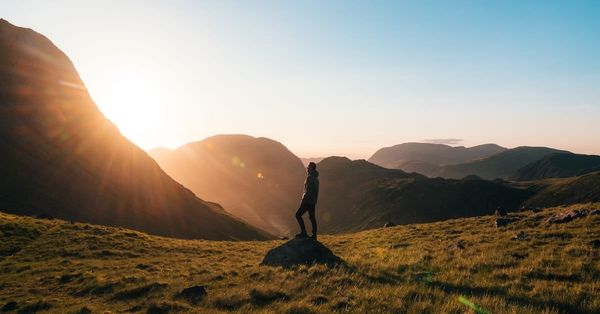 HEALING STORY: THE DELIVERANCE GUY 
Let me first say, that if I wasn't there - I wouldn't believe this story. Yep. Flat out. 
So, this young man sends me a voice message telling me that for some reason once in a while he can see better when he wakes up in the AM, and in the evening it goes away. He wears glasses, and his physical eyes don't need healing. He felt like God was in it and I was like, "huh?" So, I decided to call him. 
We talked for a bit, and he said that he also had a variety of odd pains in his stomach and chest that come and go. And these pains move in his body. If you've been tracking my posts .... that's 100% demonic. Plus, he had back and neck pain from a traffic accident. 
So, we began to pray. 
The second I began to pray, I could hear him making odd noises on the phone, thrashing around, shaking, and beginning to manifest. This happened for the first 45 minutes or so. 
He told me that he could feel claws in his stomach (yep, digging itself in), and something just didn't want to come out. We kept praying over and over for about an hour - all of that junk left AND he was healed of the injuries from the the traffic accident! 
But, here is the part of the story that gets ridiculous. 
Towards the end of the healing, he said he could feel some residue left in his stomach. Which, I somehow dubbed "demon dust" - we kicked that out in a flash. 
5 minutes after we hung up - his friend sends him a message saying she just saw a vision of him. And he refers to me as "the deliverance guy." Apparently my new role with the Grace Guys. I can't make this stuff up. 
She saw the Silver Skeleton from Terminator with a look in his eye, and the other eye had fire in it. The Silver Skeleton stared down the friend having the vision, and continued on his way. She said it was "DUSTY" (think arrid places) and outside somewhere! And the friend who was set free was on top of him riding him like a cowboy swinging his arm in the air! 
No joke! I wouldn't believe it either! 
Ends up, while we were talking and praying - many things became clear. 
First, the issue with his early AM vision - that was God talking to Him. God is ALWAYS speaking to us! God was showing this young man that there is much for him to see. He is on a path to see MUCH in the spirit realm and to kick tail on darkness. God is about to quicken his SPIRITUAL sight. 
BUT, I had to be in a position to help. I had to very intentionally make myself available for another. Yes. Led of Spirit, I had to go pursue more information. I had to be WILLING to trust God. 
And this only happened because I crave relationships. 
God does too. 
Relationships build the kingdom, and healing will always be both intimate and specific to you. Truly. Make yourself available to God and others .... see what God does through you. 
And while waiting on God .... remember .... one day you too will ride the back of your adversary waving your arms like a cowboy! 
Romans 16:20 ► The God of peace will soon crush Satan under your feet. The grace of our Lord Jesus be with you.
_________________________________
HEALING STORY: PARTNERING WITH PAIN 
Had a dream two nights ago where I saw just the face of a co worker for a super brief second. When I woke up that next morning I had forgotten all about it. 
That day at work (at the end of the day), I saw this person's wrist in a bandage and I asked her what had happened - she said she had carpel tunnel in her left wrist and pain level was 10 of 10. 
Dumb founded I remembered seeing her face the night before. 
So. I pulled her aside, prayed 3 times - and all pain left. 
100% gone. 
The next day (today) she came to work and her wrist was at a pain level of 5. She was ok with the 5 of 10 and said it was much better - and fine as is. 
I refused that answer. 
I prayed once - all pain gone. 
I told her not to agree with the pain that it will return - and she's been pain free all day. 
We don't partner with pain, we partner with the completed work of the cross. 
God didn't pay for 50% of my healing, He paid the full fare!
_________________________________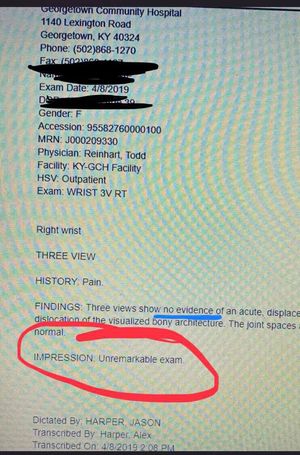 HEALING STORY: BLESSINGS WORK BOTH WAYS 
A friend of mine broke her wrist and I called to pray for her. Prayed twice - no movement. 
Three weeks later when I was in a bad, low place - frustrated w some things - I prayed, "God, throw me a bone. Please." 
The next day my friend sends me the doctor report in the pic. The broken BONE - showed no break. Like it had ? never happened. 
God literally threw me a bone! In fact, this broken bone is one of the smallest in the wrist and has a hard time healing because of limited blood flow. 
The blessings of the kingdom are a two way street - His love is always an exchange of blessings between God's kids. God always shines on both the giver and the receiver.
_________________________________
HEALING STORY: GREATER! 
Last night a friend sent a friend my phone number. She had an "issue of blood" her entire life. 
But recently, the problem got much, much worse. And to make things more complex - the doctor's office was telling her she "might" have a benign tumor in her brain causing the increased issue. They wanted to do an MRI tomorrow. 
We talked a few minutes. She had tremendous faith, I could feel her faith - and she was completely stoked to pray. We prayed briefly. And I didn't have to pray as forcefully as usual. 
The thing (pressure) just released from her head. 
Prayed again, and several things popped loose in her back - and something left through her right hand. 
Today, she is as good as new! 
The bible tells a story of a woman with a life long issue of blood, and her great faith made her whole. The bible also says in John 14:12 that born from great faith *WE* will do even greater things than Jesus. 
I believe that day is coming where believers who dare to step out of their comfort zones .... will see greater.
_________________________________
HEALING STORY: GOD HEALS OTHERS BUT NOT ME 
Last weekend, a longtime friend of mine - who is a pastor - messaged me that he hasn't been able to walk for 5 months because of a large wart under the skin of his foot. He said that there is pain when he walks, and has had to walk with a limp. 
My friend said that because of a personal incident that occurred in the past, he has a hard time believing in healing for himself. But he has no issue declaring and believing in healing for others. In fact, he has seen much healing in others at his churches. 
Well, we prayed a couple of times. 
All pain in the foot gradually left. Pain 100% gone. And he was able to enjoy a vacation with his family ..... walking everywhere. 
He says the wart is still there a week later - but it's completely dead - and falling out. 
I told him, "Pastor, now you can't ever say again that God won't heal you too." 
It's easy to believe God will heal someone else, but sometimes when we have our own skin in the game it's hard to believe for ourselves. 
God loved you first, always remember that.
_________________________________
HEALING STORY: KEEP GOING! 
I met an awesome sister in Christ tonight. She was in pain throughout her body, and she messaged asking for relief. 
We spent about an hour on the phone, she and I both quickly agreed the pains across her entire body were 100% demonic. We also agreed that what had left once before, came back stronger with friends. 
I prayed once. Not much movement. 
I prayed a second time. Not much movement. 
I kind of thought for a moment that this might be over my head. So .... I paused. 
And I prayed a third time just telling God that I trust Him with His people. That He tells us to persist. That He told His disciples if we can persist and get a fair ruling from an unjust judge - how much more can we get from a just judge! 
I continued to remind God, that I'm just a vessel and that He has promised to work His righteousness and justice for the oppressed (Psalm 103). 
Then. 
It all began to break off in chunks - bouncing around her system. 
Now. She's whole. 
We also in closing, God revealed the door darkness was using. We now slam that thing shut. 
Never quit. Great power you have.
_________________________________
HEALING STORY: DESPERATION 
A friend of mine called me last night and I missed her call - but she didn't leave a voice message. Usually, when she does that - I don't call back. 
But, I did. 
She said that she had massive pain in her side/back. She was in bed curled up in a ball. 
On a pain scale - she was a 9 of 10. And she doesn't/didn't have the $$$ or insurance for a doctor trip. 
So, we prayed 3 times. Nothing each time. Which is odd for me. And. I usually discontinue with no movement. 
We even began praying to God saying we were frustrated and desired answers or more clear direction. So ..... 
Given the severity of the situation, we prayed a 4th time - and the pain spread across the inside of her body. We stopped for a minute and I talked about how demonic activity usually responds that way. 
She said, "Not me, I'm a Spirit filled believer. Can't happen." 
And .... she is prayer warrior to the max! Aside from my wife, this is someone that I've asked *repeatedly* to pray for me when I have stuff going on. And I will ask her far and away before someone else. And, often without her knowing the needs - she sends me back words straight from Heaven. 
So, we prayed a 5th time - and as she prayed in agreement with me - she saw/felt herself pulling a rope out of her back. 
Pain dropped to a 4 of 10. 
We prayed 3 times more. Nothing. No movement. 
I asked her to pray on her own for a bit, and get intimate with God. 
She called back 15 minutes later ..... 100% healed. 
God is a God of relationship .... He craves your voice and your intimacy. God is good, and He meets the needs of His children.
_________________________________
HEALING STORY: PAST FAILURES 
OK, I stopped posting these stories because I took so much heat over them. Then a FB friend of mine (who I wish to be like one day when I grow up in the spirit realm) said, 
"Dude, who cares about the heat! Jesus is alive!" 
And here we are. 
A very nice woman who follows our Grace Guys page messaged asking for prayer help. 
A few years back an unfortunate accident happened that physically hurt another person (a child). She felt terribly responsible and at the moment of the accident - she felt a 'slice' in her own spirit. 
Suffering from panic attacks and bouts of shame - she was terribly afraid God would hold the accident against her and take away her salvation. Even the idea of a rapture held her hostage because she thought that she'd be left behind. 
As a young woman she spoke in tongues and had visions and prophecies - but as an adult these things were rare, if ever. 
BUT ever since the accident - she couldn't seem to hear God's voice - even though He never stopped talking. She also couldn't seem to ever sense God's presence - even though God never left her! 
She felt a void, and stood horrified of being judged by God. 
We talked for about 45 minutes to clear up confusions with much scripture. And in doing so, it became clear that she picked up an external demonic "critter" that was there to torment her. 
After praying, and yet while on the phone: 
She saw Jesus in a vision, sensed things breaking off of her, felt herself being filled over and over and over, and she bust out into tongues for a good long while! AND she felt her mind to be clear for the first time ... in a long time! 
Bad teaching doesn't just clear out a sanctuary, it destroys the temple that contains His spirit. Good teaching that brings right understanding - sets the captives free and a hundred fold crop! 
God took your iniquities - and your failures too.
_________________________________
HEALING STORY: NONE 
None. Exactly. Point made. 
I get accused of "showing off" on FB or standing in jeopardy of losing my eternal rewards by publicly talking about what kind of work Jesus does through my friends and me. 
If I didn't post what God is doing here - there would be no other miracles. In fact, if I were to post the full extent and scope of what's happening - I'd be accused of so much more. Literally. Every day people are healed, and my FB messenger is on a waiting list only ? because of what I've posted. 
Jesus Himself prayed to the Father that He would share His glory so people would know how much God loves them and how much is so very possible to those who believe. 
"I have given them the glory that you gave me, that they may be one as we are one— 23 I in them and you in me—so that they may be brought to complete unity. Then the world will know that you sent me and have loved them even as you have loved me." 
John 17:22-23 
Anyone who knows me, knows that I'm not doing any of this for my own personal gain and they know how much personal cost I have in time, effort, strength, drained energy, late nights, follow up calls, sheer determination, reckless love ..... and the unfair mocking of my heart. Jesus doesn't just heal people through us - we spend much personal time teaching identity, the love of God, and our authority over a broken world. 
One person messaged me, "Your healing ministry is giving lots of people hope." 
Well. Hope is a top 3 gift. 
Faith. 
Hope. 
Love. 
Those 3 currencies I deal in daily, are far more valuable to the kingdom than anything else I have to offer. 
I will say this too. Satan can not charge a dead man. Dead to the world and alive in Christ - having thrown self over to the curb - I want more and more of my very great reward Jesus. 
Thankful to be a King's Kid and a co-heir to what I labor over.
_________________________________
HEALING STORY: STAND! 
A friend of mine has a young adult son who was born with genetic issues in both his legs (he has a walker). For the last little while he has been down, sad, restless, and very frustrated because he gets prayed over constantly … and healing never comes. 
Well, his mom asked me to talk with him – and at first I froze, panicked – because I've actually watched this situation from afar and it has brought me distress (get there in a moment). Yet. Mom was emphatic that God led her to have me talk with him. 
I accepted what was on her heart – and I prayed for wisdom. 
I get him on the phone a few hours later, and I said, "What makes you think you need healing?" 
Silence. He had no answer other than his legs don't work. 
I said something like, "Who said your legs don't work as intended?" 
I explained he only thinks he is broken because everyone else says he is! Out of their own hearts they SEE legs that don't work – and these people pray for him constantly. But, I said what about brokenness on the inside that nobody sees? 
People with anxiety, depression, suicidal thoughts, self esteem issues, fear, pride, arrogance, deep emotional hurt, PTSD, deep relational scars, etc – that pain runs deep too and those people have legs that do work. 
I explained he isn't any less perfect than anyone else. And if he wants his legs to be fully whole, it must be for the right reasons. Not because people say he is broken or because the legs are a hassle – but because God wants them whole. 
I told him to walk out his life WHILE his legs become whole. If he is sitting around waiting for them to be whole FIRST, he is missing his call. 
I explained how the weak confound the strong, how the foolish things shame the wise, and how the things that aren't nullify the things that are. And how God uses the broken or cracked vessels (pots) to bring valuable water to the greatest of needs. What if God wants to use the crooked legs of one man to straighten the legs of another! 
We talked about how his legs aren't his identity, Jesus is. And how these legs can bring God great glory and powerful advancement in the kingdom. 
We prayed, mostly for things other than physical healing. Then. He literally saw himself STANDING up in the spirit realm. 
A giant among men. 
We hung up the phone and he told his mom, "Mom, I am perfect!" 
Yes, he is. 
And this was the best healing all year long. 100%. 
John 9:1-4 
As he went along, he saw a man blind from birth. His disciples asked him, "Rabbi, who sinned, this man or his parents, that he was born blind?" 3 "Neither this man nor his parents sinned," said Jesus, "but this happened so that the works of God might be displayed in him."
_________________________________
HEALING STORY: DON'T LISTEN TO NAY SAYERS! 
So, I had stopped posting healing stories because of push back. But – the more I post them – the more people come forward for help and get healed too! 
And as a friend says, "Dude, share it ... JESUS IS ALIVE!" 
Today, I had posted about the scoliosis healing – someone else saw that and asked for prayer for her husband. Basically, he needed a RECREATIVE miracle in his right shoulder (rotator cuff). She said a friend had a vision of him being healed – and they were holding fast to that word. 
His shoulder HAD 3 tendons and ligaments that were COMPLETELY TORN ALL THE WAY THROUGH! They had been torn from years of hard physical work (his job) and an accident where he fell last fall. The arm could NOT be lifted! 
Doctors said surgery (or a replacement shoulder) wasn't really an option because at 62 years old – the surgery could have left him disabled. 
Well, God replaced HIS SHOULDER ALL RIGHT! 
100% healed! 
To top it off, God healed his knees too. He had ALL the cartilage removed in one of them a few years back due to a fall 30 years ago! 
If people say "no way" when God said "way" … hold fast to that! No matter how long! 
We confess (agree) with GOD, not the world! 
Luke 1:37 
"For no word from God will ever fail."
_________________________________
HEALING STORY: HEALED WHEN YOU LEAST EXPECT IT 
A friend of mine was watching the "replay" of a FB live video we did on healing - at the end we were praying for people. As pre-recorded Alan was praying for a live viewer's leg (which was healed) my friend was praying for that person's leg as well. 
At that moment, my friend's foot was healed from fibromyalgia. 
I called my friend and I said, "Fibromyalgia?" 
She said yes, I have it off and on throughout my body. It comes and goes. Moves to different places. 
Comes and goes. Moves in body. Moves across the body .... demonic. 
We prayed a couple of times - specifically over her neck right at base of skull (fav demonic hiding spot). She felt power, energy, and peace throughout her body each time. 
All pain across body has been gone for weeks. 
Honor someone else with your time and heart - even when you have your own needs - and see God's hand move when you least expect it.
_________________________________
HEALING STORY: CONVICTED OF THE UNSEEN 
A local youth pastor's wife went to the ER in the middle of the night for a ruptured ovarian cyst. She was in massive amounts of pain, and was placed on several pain meds. 
The very next day. 
The youth pastor and I prayed for his wife once ... and the wife said she felt the cyst disintegrate and all pain left. She went from a pain level of 6 to 0! 
The young pastor looked at me bewildered and said, "Man, how many times do we pray and not believe!" 
I stand convicted that God is good, that He is for me and not against me, and that I will see His goodness in the land of the living. Psalm 27:13 
Hebrews 11:1 The Voice (VOICE) 
Faith is the assurance of things you have hoped for, the absolute conviction that there are realities you've never seen.